Nurses at MQ Health prepare the next generation
Nursing leaders at MQ Health delivered a world-first as part of their Grad@MUH 2020 Program recruitment plan.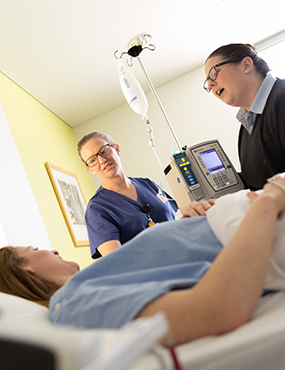 Future nurses — graduate program story
The groundwork for this innovation was laid with the launch of MQ Health's Nurse Education and Research Strategy 2019–2022.
Deb O'Neill, Executive Director of Nursing at MQ Health, is driving its implementation as a key component of providing the highest quality nursing care to every patient. "Our nursing vision includes that we will set the gold standard for exceptional patient care and develop outstanding nurse leaders who are recognised nationally and internationally for their expertise and evidence-based practice."
In line with this vision, nurse leaders implemented an innovative recruitment plan, the Grad@MUH 2020 Program, targeting newly qualified registered and enrolled nurses. This new program received over 400 applications for 2020.
Kath Sharples, Nurse Manager Education and Research, led the next stage of the selection process by implementing a multi mini-interview protocol. Multi mini-interviews – a series of short one-on-one interviews – are commonly used as part of recruitment into undergraduate and postgraduate healthcare degrees. However, the use of a complete multiple mini-interview methodology for the selection of newly qualified nurses in a not-for-profit private teaching hospital was a first for Australia, and perhaps worldwide.
"Our clinical nurse educators have designed interview stations to ensure we can assess a range of attributes such as critical thinking, teamwork, ethical reasoning and integrity, interpersonal skills and communication.
"Our recruitment strategy is based on research evidence over many years; we believe that multiple independent sampling methodology in conjunction with a variety of situational- and scenario-based questions blueprinted to MUH values and standardised rubrics is a far more reliable way of discerning desirable employment characteristics between applicants than a traditional interview approach."
As part of their commitment to nurse-led translational research, the Nurse Education and Research Team will also be conducting a world first research study investigating the reliability of the multiple mini interview protocol in the selection of newly qualified nurses.