World-first intuitive osseointegration procedure
MQ Health's Limb Reconstruction team performed Australia's first intuitive neuro-prosthetic limb operation, giving a patient two new mind-controlled limbs.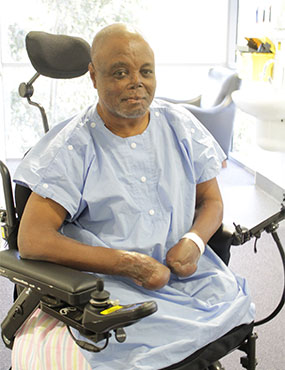 Brain-controlled prosthetic limbs — story
Brain-controlled technologies are on the rise in many fields, with medicine no exception.
Edwin Ocha Ikwu became a quadruple amputee in 2014. While visiting Australia from Nigeria to attend a conference, he lost both legs and hands to septicaemia. Unable to return home, Edwin was joined in Sydney by his wife in 2015.
In August 2019 Associate Professor Munjed Al Muderis and Dr Kevin Tetsworth became the first surgeons in the world to perform game-changing surgery that has allowed Edwin to control two new prosthetic limbs with his mind.
"We have been working with Edwin for years," said Al Muderis, head of Limb Reconstruction at MQ Health and an internationally recognised osseointegration surgeon. "We have been refining our techniques, optimising the surgical approach, preparing him for surgery and aiming for this day when we could provide him with new limbs to get him up and walking."
"This technology will allow him to move his legs, and eventually hands, by simply thinking and intending to do it. The thoughts will allow the movements to happen."
"Clinically, Edwin has responded well to the medical treatment. He has incredible resilience and courage."
MQ Health surgeons worked with engineering researchers from Macquarie University to develop a pioneering world-leading brain-computer interface that centres around implantable electrode technology.
The innovative procedure, called Osseointegrated Prosthetic Limb – Bilateral Femurs, takes existing targeted muscle reinnervation and bone-anchoring osseointegration techniques and adds implantable electrodes connected into the muscles and nerves.
"It is the unique combination of the three procedures that makes the interface more intuitive than ever before," said Associate Professor Al Muderis. "The key to this advance has been implantable electrodes that can now capture complex brain signals to enable more natural limb mobility. Things we thought were not possible, are now possible," he said.