MQ Health Shoulder Clinic
MQ Health provides specialist care of common shoulder conditions through the MQ Health Shoulder Clinic. Our specialists have extensive experience, expertise and training in an academic research environment. We provide care for patients who have shoulder problems causing pain, stiffness or instability.
Our dedicated specialists can help you learn about your condition – including whether you should proceed with surgery or another treatment.
About the shoulder
The shoulder joint is one of the most complex joints in the body that requires subspecialist attention.
The shoulder joint has a fine balance of soft tissue and bony elements that allow a wide range of motion whilst maintaining stability.
Good shoulder function is integral for all activities of daily living, as well as recreational activities.
Many people are prone to shoulder injuries, whether through work, sports or after an unexpected fall. Major injuries often require surgical procedures.
Over time, the shoulder joint may undergo a degenerative change that may also require surgical attention.
About the specialist
Associate Professor Sumit Raniga is a Fellow of the Royal Australasian College of Surgeons. A subspecialist orthopaedic shoulder and elbow surgeon, Associate Professor Raniga has three years of dedicated post-fellowship training in world-renowned centres of excellence.
Associate Professor Raniga provides the highest standard of evidence-based management and surgical treatment of common and complex shoulder problems.
Multi-disciplinary approach
The clinic also collaborates with pain and infectious diseases consultants when complex problems require input from other specialists
The MQ Health Physiotherapy department works closely with our clinic and also have a specialist interest in rehabilitation of complex shoulder problems.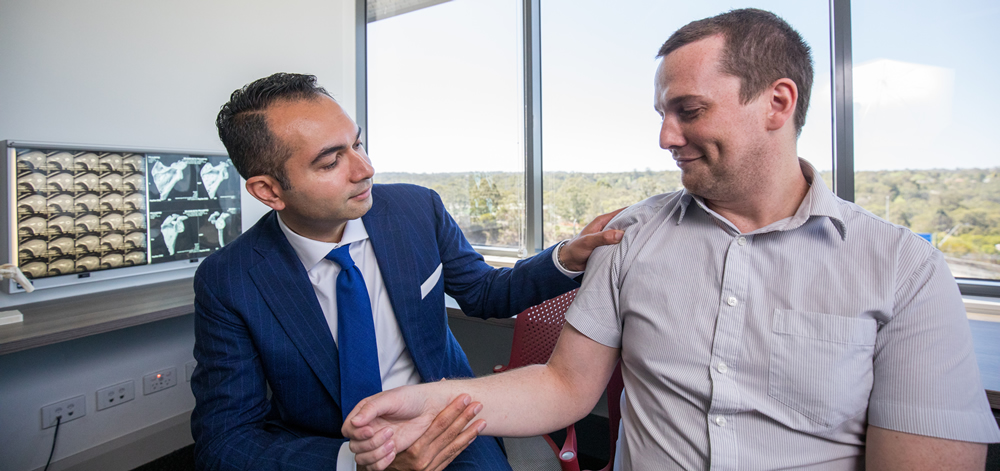 Conditions treated
The MQ Health Shoulder Clinic offers both non-surgical and surgical treatment options for all shoulder conditions and injuries.
Shoulder arthritis
Shoulder arthritis
Anatomic shoulder replacement
Revision of failed shoulder replacement
Shoulder arthritis due to degenerative tears of the rotator cuff (rotator cuff tear arthropathy)
Reverse total shoulder replacement
Reverse total shoulder replacement with tendon transfers to restore rotation
Revision of failed reverse shoulder replacement
Shoulder dislocation, instability and labral tears 
Arthroscopic shoulder reconstruction
Open shoulder reconstruction including the latarjet procedure
Revision of failed shoulder reconstruction
Rotator cuff
Rotator cuff tears (including subscapularis tears and massive tears)
Arthroscopic repair
Revision of failed repair
Unrepairable rotator cuff tears in high demand patients
Joint preservation surgery for high demand patients that are too young for shoulder replacement
Superior capsular reconstruction
Lower trapezius tendon transfer
Latissimus dorsi tendon transfer
Adhesive capsulitis or frozen shoulder
Arthroscopic capsular release
Calcific tendinitis
Arthroscopic evacuation of calcific deposits
Acromioclavicular joint (ACJ)
Acromioclavicular joint (ACJ) arthritis
Arthroscopic distal end of clavicle excision
Acromioclavicular joint (ACJ) separation
Arthroscopic assisted ACJ reconstruction
Biceps tendonitis and SLAP (superior labrum anterior and posterior) tears
Long head of biceps tenodesis
Long head of biceps tenotomy
Subacromial impingement, subacromial bursitis and rotator cuff insertional tendinitis
Arthroscopic subacromial decompression and acromioplasty
Fractures
Proximal humerus fracture or fracture dislocation of the shoulder
Fracture reconstruction – open reduction and internal fixation
Reverse total shoulder replacement
Scapular and glenoid fracture
Fracture reconstruction – open reduction and internal fixation
Humeral shaft fracture
Fracture reconstruction – open reduction and internal fixation
Clavicle fracture
Fracture reconstruction – open reduction and internal fixation
Pectoralis major tendon ruptures
Primary repair
Delayed reconstruction